Keep Your New Orleans Deck Clean With Professional Deck Cleaning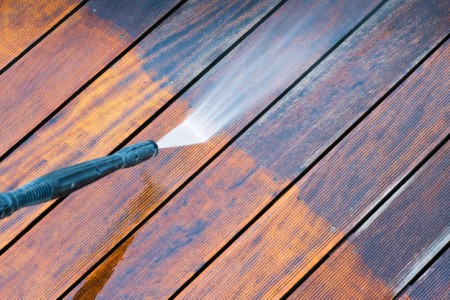 An outdoor deck can be a wonderful investment for your New Orleans home, providing you with a wonderful space to entertain and host parties, but in order to keep your deck looking its best, regular deck cleaning is essential. When you need high-quality deck cleaning services for your home's outdoor deck, give the skilled pressure washing specialists here at Aqua Wash a call today and let us show you the difference our service can make. Are you looking for a professional New Orleans pressure washing contractor you can trust with all of your deck cleaning needs? If so, give our team of skilled professionals a call today and let us show you the kind of quality results that have helped make us the most trusted name in deck cleaning and fence cleaning the area has to offer.
Here at Aqua Wash, we want to do everything in our power to help you keep your outdoor deck area protected from harm and looking great, and with our deck cleaning services, we're able to do just that. Whether your deck is just in need of a little touch-up, or you need a great deal of mildew, dirt, and other contaminants removed from its surface, our team of skilled exterior washing pros would be happy to help. If you have any questions about our full line of deck cleaning services or if you would like to schedule an appointment to get your free estimate for your next project, give us a call today. Our team of experts are always standing by and would be happy to assist you in any way we can.
Recent Articles
The Importance of Proper Roof Cleaning Techniques: Preserving and Protecting Your Home
Maintaining a clean and well-maintained roof is essential for the longevity and overall aesthetics of your home. Over time, roofs can accumulate dirt, debris, algae, moss, and other unsightly contaminants. To effectively restore the beauty and functionality of your roof, it is crucial to understand the […]
Pro Deck Cleaning
If you're the proud owner of an outdoor deck space, you understand just how important it can be to the function and beauty of your home's outdoor spaces. Between hosting cookouts, spending time with family, or just relaxing at the end of a long day at […]