Remove Oil And Other Stains From Your New Orleans Driveway With Concrete Cleaning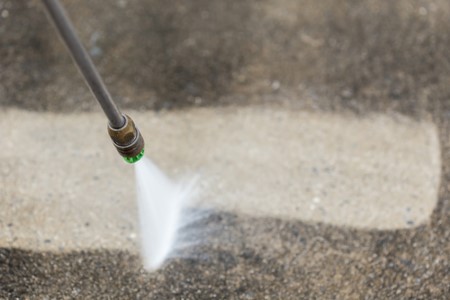 Because concrete is relatively porous in nature, it tends to collect its fair share of dirt, grime, and other contaminants over time. When that happens, it can not only make the look dingy and worn out, but it can also make them quite slippery. If you're one of the many New Orleans homeowners out there with one or more concrete surfaces around your home that are in need of some serious cleaning, give the skilled pressure washing pros here at Aqua Wash a call and let us provide you with the comprehensive concrete cleaning services you need. Are you looking for a professional New Orleans pressure washing company that can help with your concrete cleaning needs? If so, give our team of skilled professionals a call today and let us show you the kind of quality results that have helped make us the most trusted name in concrete cleaning and deck cleaning the area has to offer.
Sidewalk Cleaning
Much like driveways, sidewalks tend to collect their fair share of grime over time thanks to the tread of countless individuals and pets, which can make them somewhat slick and dangerous. With our thorough sidewalk cleaning services, you can rest assured you'll get the service you need to restore the beauty of the sidewalks around your home, as well as improve their overall safety for you and your family.
Driveway Cleaning
Your driveway is one of the first parts of your home guests are going to get a close look at when they arrive, and if your driveway is looking a bit dingy thanks to mildew, oil, grease, and grime, it can give off a bad overall impression of your home, as well as present your guests with a serious safety hazard. With our comprehensive driveway cleaning services, however, our concrete cleaning pros can help you restore this surface to its original condition and improve the overall safety of your property.
Paver Cleaning
Concrete pavers can be a gorgeous landscaping feature, whether you're using them to create walkways, sidewalks, or even patios, but just like any other surface around your home, you're going to need to put in some effort to keep them clean and looking their best at times. If you're in need of fast and reliable paver cleaning to help restore the beauty of your home's hardscape features, give our team of skilled concrete cleaning pros a call today and let us show you what we can do.
Patio Cleaning
An outdoor patio can be a wonderful investment for your New Orleans home, and to keep yours in the best shape possible, it's essential to ensure you've got the name of a skilled pressure washing expert you can trust. Here at Aqua Wash, we provide local homeowners with the exceptional patio cleaning services they need to keep their outdoor entertaining spaces looking great at all times. If you have any questions about our patio cleaning services, give our team of skilled exterior washing pros a call today and let us show you what we can do.
Clean Concrete Is Slip Resistant Concrete
Dirty concrete surfaces can have much more of an impact around your home than just bringing down the overall visual appeal and aesthetics of your landscape. Dirty concrete surfaces tend to get quite slippery, making them a major hazard for you, your family, and any guests you might have over to your home. Over time, contaminants tend to build up below the surface, causing your concrete to lose its grip. Having a concrete cleaning pro come in and pressure wash the surface of your concrete is a great way to remove any harmful build-ups from your concrete, helping to keep your surfaces slip-free and safe to tread.
Recent Articles
The Importance of Proper Roof Cleaning Techniques: Preserving and Protecting Your Home
Maintaining a clean and well-maintained roof is essential for the longevity and overall aesthetics of your home. Over time, roofs can accumulate dirt, debris, algae, moss, and other unsightly contaminants. To effectively restore the beauty and functionality of your roof, it is crucial to understand the […]
Pro Deck Cleaning
If you're the proud owner of an outdoor deck space, you understand just how important it can be to the function and beauty of your home's outdoor spaces. Between hosting cookouts, spending time with family, or just relaxing at the end of a long day at […]